We celebrated the 4th with the Reeses as well as another American friend, Marisa. We took another trip in the caucasus mountains, this time to Kazbegi, the last town before the Russian border.
On the way we stopped at a fun mineral spring. Jude loves Marisa! He also loved getting his feet wet.
Isn't it cool! It looks slippery but wasn't at all. Kind of porous like sandstone. There is like 1/4 inch of water moving over the rock, which is orange from the iron in the water. The boys had a blast playing here.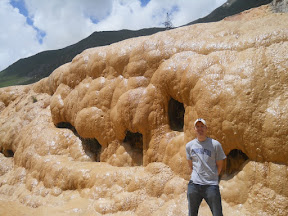 We drove up and up and up, and finally got to the town of Kazbegi, which is really Stepantsminda now. But everyone still calls it Kazbegi...hard to see why, right? It's the town at the bottom of this valley.
We started down there and hiked up to this church.
Straight up, through the forest
Paul packed a very jolly Jude up the mountain.
A lovely meadow for a photo op. You can see Mt. Kazbek in the background.
The views at the top were just stunning:
It was tough climbing but we made it! (blue raspberry ring pops were effective incentives for the boys.)
The two specks down at the bottom near the road in the picture are jeeps--just to give you a sense of the size of these mountains.
I just love these velvety green mountains.
The group! Happy fourth!
Posted using BlogPress from my iPad
Location:Kazbegi